MRA Events - COVID-19
Table of Contents
COVID-19
Starting in late 2019 and hitting the United States in March 2020, the COVID-19 (Coronavirus Disease 2019) outbreak began causing severe disruption to public transit agencies starting around mid-March as mass work-from-home and shelter-in-place programs began.
Each section on this page will link to official responses by major public transit agencies. Some sections will also feature maps and summaries of service (but not scheduling) changes for rapid transit lines only. Please note that as the current state of affairs changes quickly, data may not be up to date. In addition, after the event has concluded, some of the links may no longer accessible if the public transit agencies choose to delete the pages. Finally, when we say 'No Rapid Transit Service Changes' on this page, this refers to: Metro, Light Rail, Streetcar, Bus Rapid Transit, Commuter Rail, and select Arterial BRT lines/services.
Due to the constantly changing situation, incredible variation in transit operator responses, and plethora of special schedules, as of May 16, 2020, we are only noting line and station closures, and rapid transit routing changes and are no longer mentioning details of schedule changes or modified timetables. Refer to the linked transit operator websites for up to date information.
In addition, this page is no longer being maintained as of August 2020 due to additional complexity (some changes becoming semi-permanent, general uncertainty, etc). The information on this page is no longer up to date.
To return to the Events Portal, click this link: MRA Events
Albuquerque
Rio Metro - Rio Metro Service Changes
Station and Line Closures:
March 3, 2020 - : Rail Runner Express suspended
Atlanta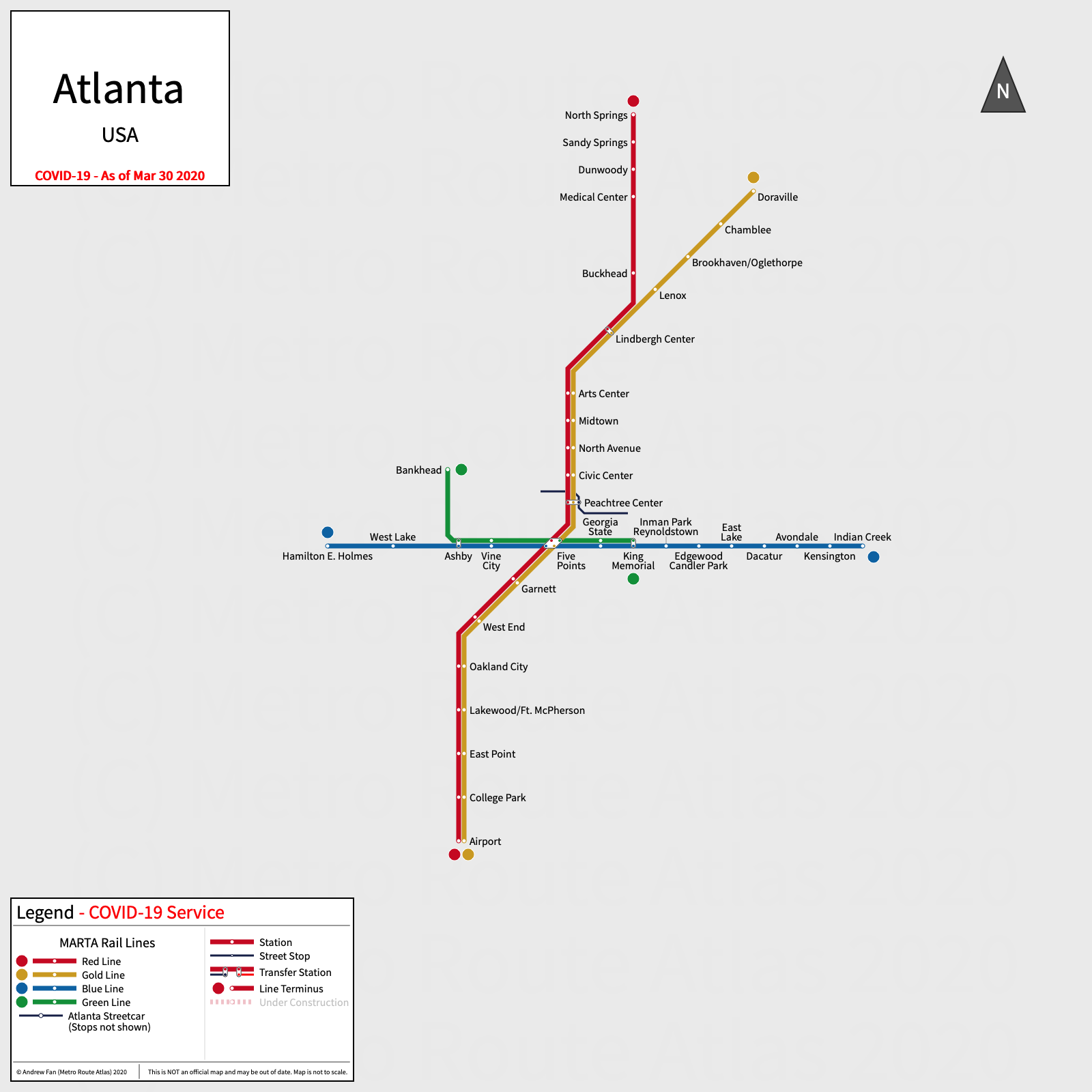 MARTA - MARTA Service Changes
Station and Line Closures:
March 30, 2020 - : Mercedes-Benz/State Farm Arena/GWCC station
Baltimore
MTA - MTA Service Changes
Boston
MBTA - MBTA Service Changes
Buffalo
NFTA - NFTA Service Changes
Charlotte
CATS - CATS Service Changes
Chicago
CTA - CTA Service Changes
Metra - Metra Service Changes
Station and Line Closures:
May 9, 2020 - : SouthWest Service suspended on Saturdays
NICTD - NICTD Service Changes
Cincinnati
Cleveland
GCRTA - GCRTA Service Changes
Dallas
DART - DART Service Changes
TRE - TRE Service Changes
Trinity Metro - Trinity Metro Service Changes
MATA - MATA Service Changes
Denver
RTD - RTD Service Changes
Station and Line Closures:
April 19, 2020 - : C and E lines run every day; D and F lines suspended
Detroit
DPM - DPM Service Changes
Station and Line Closures:
March 30, 2020 - : All service suspended
QLine
El Paso
Sun Metro - Sun Metro Service Changes
Station and Line Closures:
March 22, 2020 - : Streetcar service suspended
Eugene-Springfield
LTD - LTD Service Changes
Station and Line Closures:
March 29, 2020 - : Sunday service suspended
Fort Collins
TRANSFORT - Transfort Service Changes
Station and Line Closures:
April 18, 2020 - : Sunday service suspended
Hartford
CT Transit - CT Transit Service Changes
Hempstead
MTA - MTA Service Changes
Houston
METRO - METRO Service Changes
Station and Line Closures:
March 30, 2020 - May 17, 2020?: Green Line suspended; bus substitution
Kansas City
KC Streetcar - KC Streetcar Service Changes
Las Vegas
Las Vegas Monorail
Station and Line Closures:
March 18, 2020 - : Service suspended
RTC - RTC Service Changes
Station and Line Closures:
March 19, 2020 - : SDX Service suspended
Little Rock
Rock Region Metro - Rock Region Metro Service Changes
Station and Line Closures:
March 17, 2020 - : Streetcar service suspended
Los Angeles
Metro - Metro Service Changes
Metrolink - Metrolink Service Changes
Memphis
MATA - MATA Service Changes
Miami
Milwaukee
MCTS - MCTS Service Changes
The Hop - The Hop Service Changes
Minneapolis-St. Paul
Metro Transit - Metro Transit Service Changes
New Orleans
NORTA - NORTA Service Changes
Station and Line Closures:
March 29, 2020 - May 16, 2020: 2 - Riverfront & 48 - Canal/City Park service suspended
New York City
MTA - MTA Service Changes Official Map
Station and Line Closures:
March 27, 2020 - June 07, 2020: No 6, 7, D (Bronx), F (Brooklyn) express service; 5 runs between Dyre Ave and Bowling Green; B, W, Z, 42 St Shuttle service suspended; No A service to Rockaway Park or E service to Jamaica-179th St; N runs local in Manhattan.
June 08, 2020 - : 42 St Shuttle service suspended
NJ Transit - NJ Transit Service Changes
Norfolk
HRT - HRT Service Changes
Oklahoma City
OKC Streetcar - OKC Streetcar Service Changes
Philadelphia
SEPTA - SEPTA Service Changes
Station and Line Closures:
April 9, 2020 - : Chestnut Hill East, Chestnut Hill West, Cynwyd, Manayunk/Norristown, West Trenton, and Wilmington/Newark suspended
April 9, 2020 - : Service suspended between Thorndale and Malvern; Service suspended between Lansdale and Doylestown
NJ Transit - NJ Transit Service Changes
Phoenix
Valley Metro - Valley Metro Service Changes
Pittsburgh
Port Authority of Allegheny County - Port Authority Service Changes
Portland
TriMet - TriMet Service Changes
Station and Line Closures:
March 16, 2020 - : Portland Aerial Tram is OHSU only
Portland SC - Portland SC Service Changes
Richmond
GRTC - GRTC Service Changes
Sacramento
SACRT - SACRT Service Changes
Salt Lake City
UTA - UTA Service Changes
Station and Line Closures:
April 5, 2020 - : No Sunday FrontRunner service
San Bernardino
OmniTrans - OmniTrans Service Changes
Metrolink - Metrolink Service Changes
San Diego
MTS - MTS Service Changes
NCTD - NCTD Service Changes
Station and Line Closures:
March 23, 2020 - : Weekend COASTER service suspended
San Francisco-Oakland
MUNI - MUNI Service Changes
Station and Line Closures:
March 30, 2020 - August 22, 2020: MUNI Metro service suspended; bus substitution
March 30, 2020 - : Cable Car service suspended; bus substitution
March 30, 2020 - : E service suspended
March 30, 2020 - : F service suspended; bus substitution
BART - BART Service Changes
AC Transit - AC Transit Service Changes
Caltrain - Caltrain Service Changes
Station and Line Closures:
March 30, 2020 - : Express service suspended
San José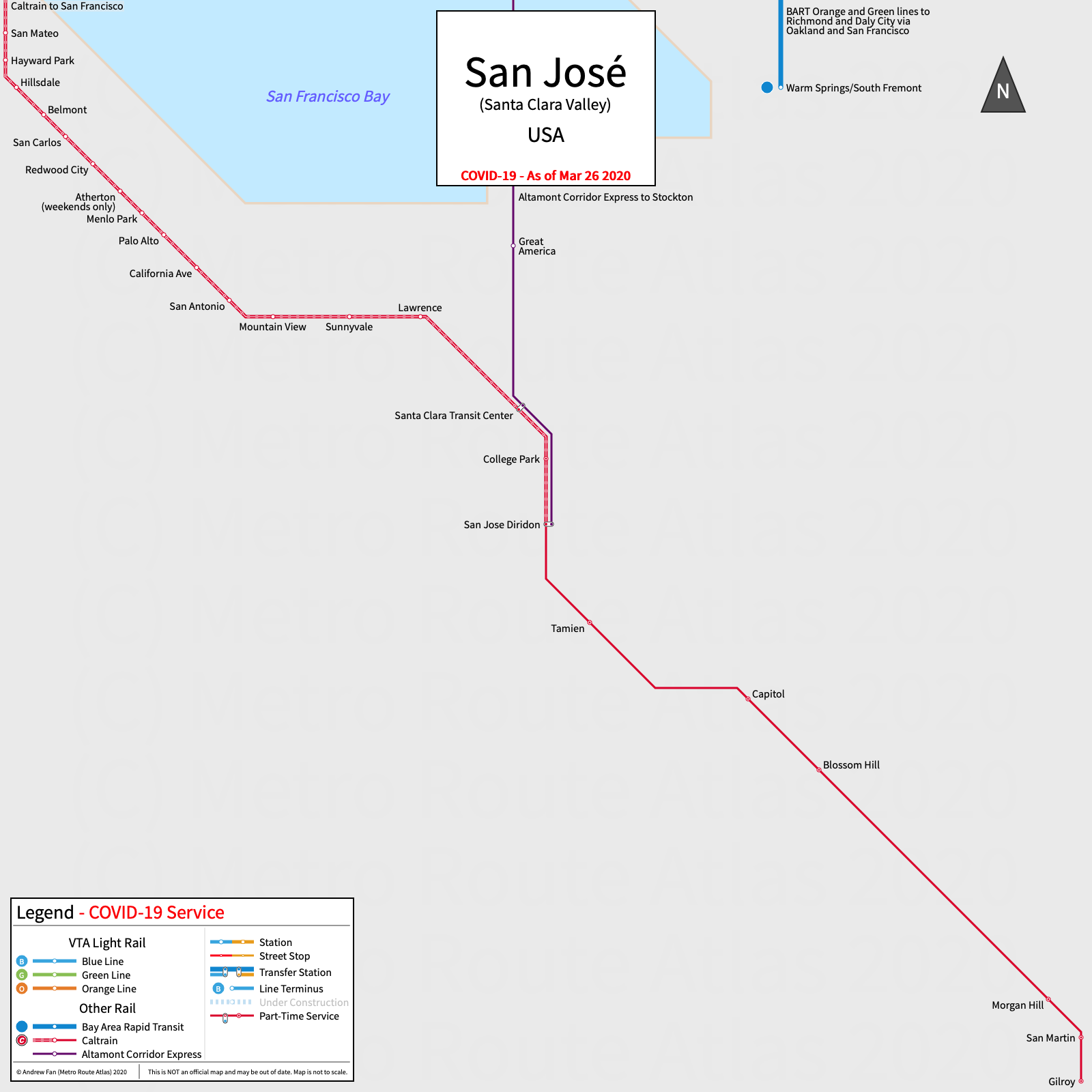 VTA - VTA Service Changes
Station and Line Closures:
March 26, 2020 - April 08, 2020: Light Rail service suspended
April 09, 2020 - June 07, 2020: No Light Rail service on Weekends
Caltrain - Caltrain Service Changes
Station and Line Closures:
March 30, 2020 - : Express service suspended
ACE - ACE Service Changes
Station and Line Closures:
March 16, 2020 - : Weekend service suspended
Seattle-Tacoma
Sound Transit - Sound Transit Service Changes
Seattle Monorail - Seattle Monorail Service Changes
Station and Line Closures:
March 17, 2020 - : Monorail service suspended
Seattle Streetcar - Seattle Streetcar Service Changes
Station and Line Closures:
March 24, 2020 - : SLU service suspended Weekdays and Saturday
St. Louis
Metro - Metro Service Changes
San Juan
Tampa
HART - HART Service Changes
Tucson
Sun Link - Sun Link Service Changes
Washington DC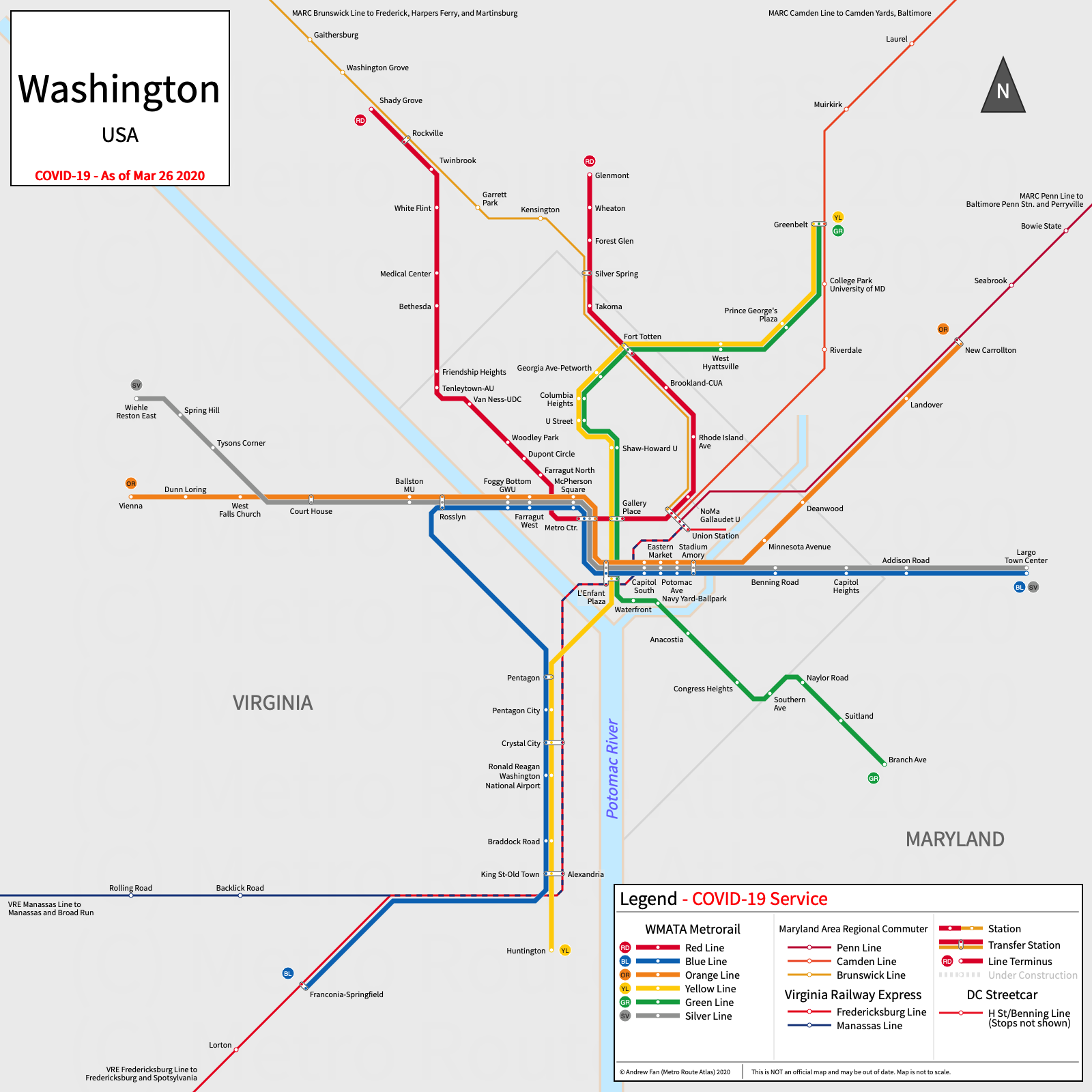 WMATA - WMATA Service Changes
Station and Line Closures:
March 26, 2020 - : Station closures - Federal Center SW, Federal Triangle, Mt Vernon Sq, Judiciary Sq, Archives, Greensboro, Eisenhower Ave, Virginia Square, Cleveland Park, Grosvenor-Strathmore, Cheverly, Clarendon, East Falls Church, College Park, McLean, Morgan Blvd, Van Dorn St, Smithsonian, Arlington Cemetery
May 23, 2020 - : Station reconstruction/Silver Line extension works - Silver Line suspended; Orange Line suspended west of Ballston; all stations west of Ballston shut down
MTA - MTA Service Changes
VRE - VRE Service Changes