Ogden, Utah, USA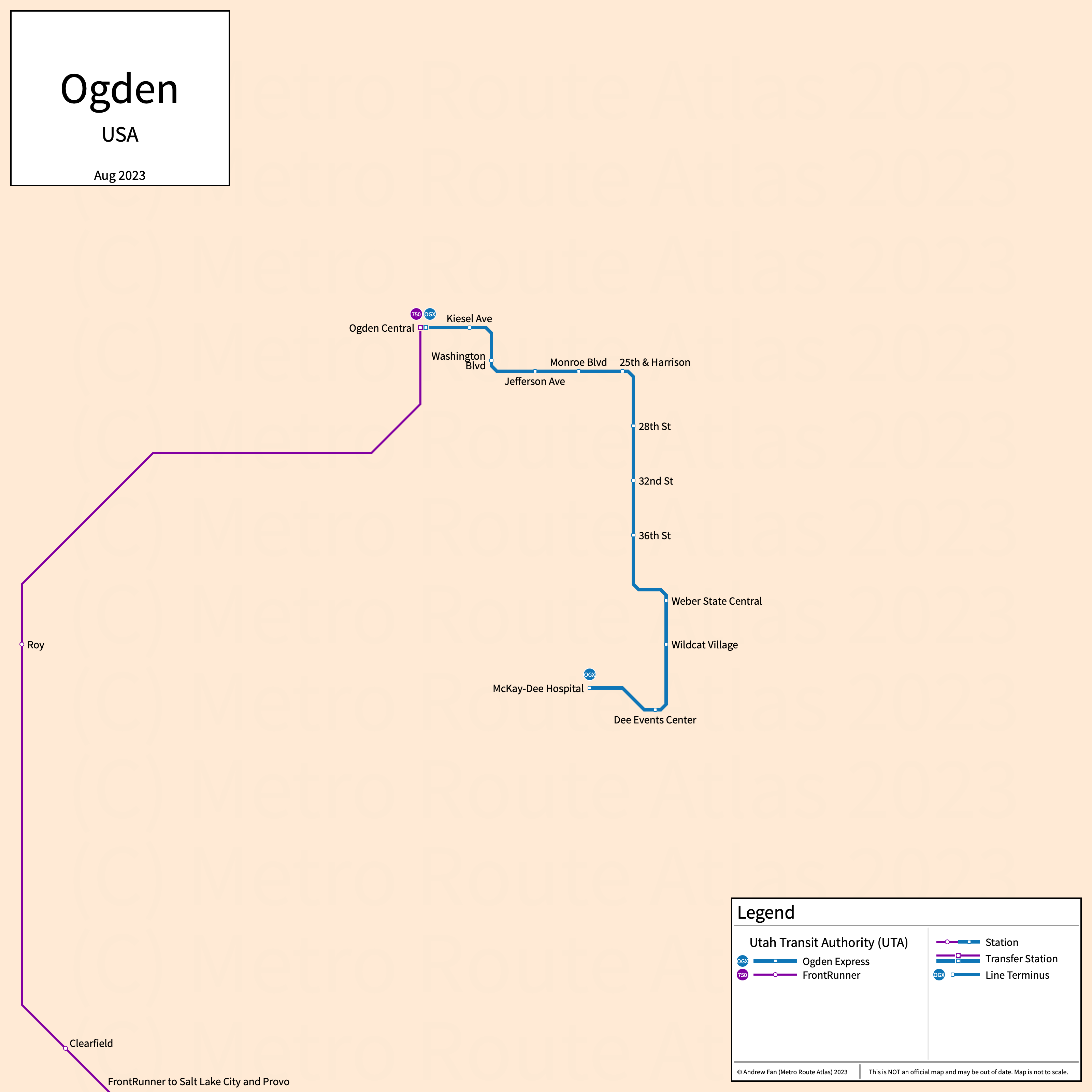 Table of Contents
Overview - Ogden
Located at the north end of the Wasatch Front, Ogden is the seat of Weber County. It has approximately 87,000 inhabitants in the city proper as of 2020. The Ogden metropolitan area (Ogden-Clearfield) comprised 694,863 residents as of the 2020 US Census Bureau Estimate.
Ogden's rapid transit network consists of a bus rapid transit service. It also has a commuter rail service.
MAX
Opened July 2008, the MAX is a bus rapid transit network serving the Wasatch Front. For MAX in the Provo-Orem area, see Provo-Orem Page.
Ogden Express (603X)
The Ogden Express is a bus rapid transit service with a northwest to southeast alignment, running from the Ogden Central Station in the northwest to McKay-Dee Hospital in the south via Weber State University and serving 13 stations. It runs in a dedicated busway from 32nd Street to the Dee Events Center.
The Ogden Express was opened in August 2023. The Ogden Express is operated by the Utah Transportation Authority.
Headways
| Service | M-F Midday | M-F Rush | Sat. | Sun. | Notes |
| --- | --- | --- | --- | --- | --- |
| OGX 603X | 10' | 10' | 15' | 30' | *1 |
Schedules -- Last Updated: Aug 21, 2023
*1 - Additional Wildcat Shuttle service between Weber State Central and the Dee Events Center not shown
FrontRunner
For more information on the FrontRunner, see the Salt Lake City Page.
References & Helpful Links
Official Website for FrontRunner and MAX: Utah Transportation Authority (UTA)
Maps
All Official Maps - Utah Transit Authority [Last Accessed Aug 21, 2023]
Official System Map - UTA Rail & BRT [Last Accessed Aug 21, 2023]
Other Sources
Asset Notes
Rail Line colors taken from UTA schedule page in Feb 2019.
OGX Line color taken from UVX map/timetable in April 2019.