Little Rock, Arkansas, USA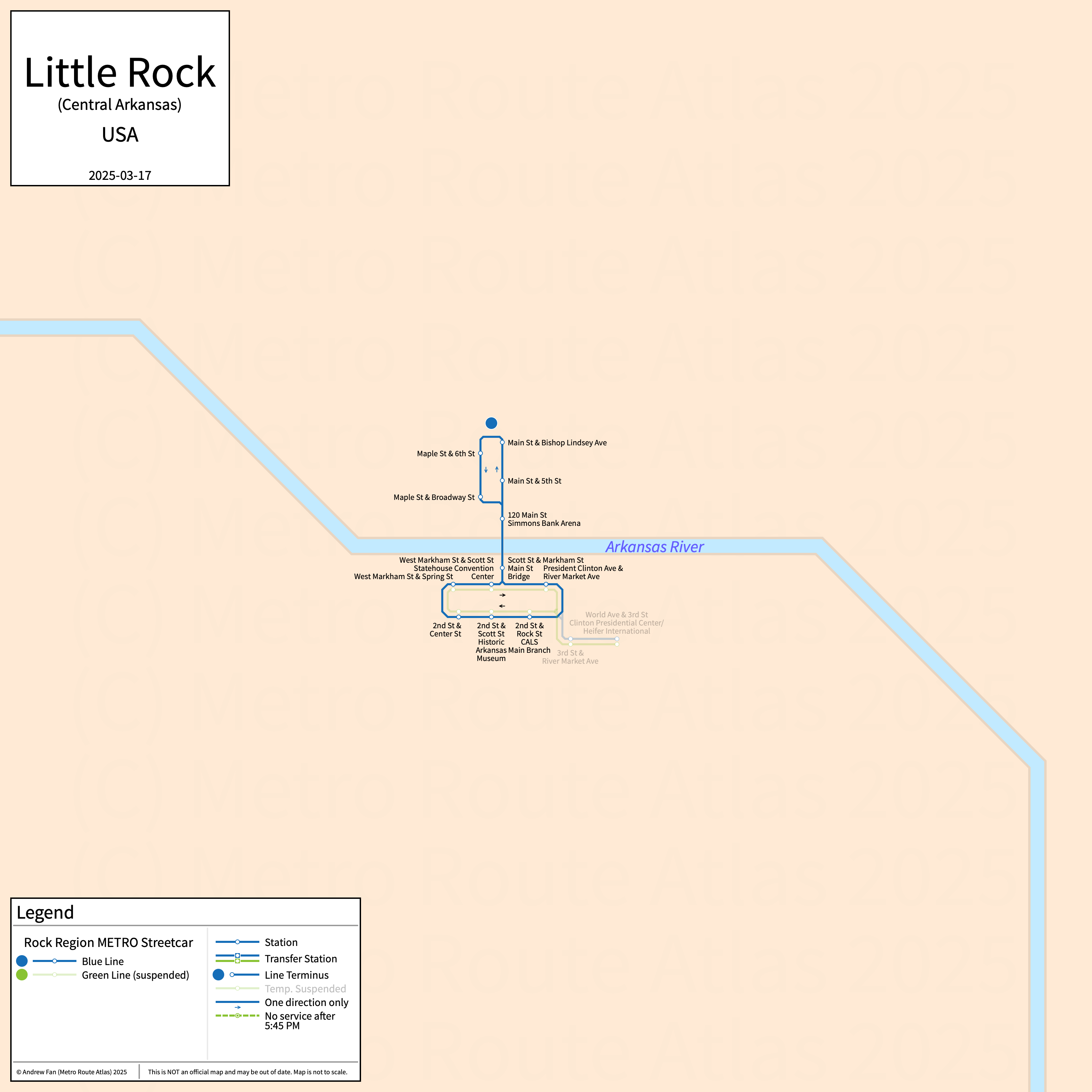 Table of Contents
Overview - Little Rock
Located on the Arkansas River, Little Rock is the capital and the largest city by population in Arkansas. It has approximately 197,000 inhabitants in the city proper as of 2019. The Little Rock metropolitan area (Little Rock-North Little Rock-Conway) comprised 742,384 residents as of the 2019 US Census Bureau Estimate.
Little Rock has two heritage streetcar services.
Rock Region METRO
Opened 2004, Rock Region METRO's Metro Streetcar consists of two heritage streetcar services that serve the cities of Little Rock and North Little Rock, Arkansas.
METRO Streetcar
METRO Streetcar is a heritage streetcar line on a North-South alignment. It runs from Main St and Bishop Lindsey Avenue in the north to Heifer International in the south via two single direction loops, serving 15 stops. The Green Line only serves the southern loop in Little Rock, while the Blue Line serves all stops. Note that we combined the 3rd St/River Market Avenue stops on this website. The spur to Heifer International is not served in the evening.
METRO Streetcar was opened in November 2004 as the River Rail Streetcar and the last extension to the line was in February 2007 to Heifer Int'l. The METRO Streetcar is owned and operated by Rock Region METRO.
Headways
| Service | M-F Midday | M-F Rush | Sat. | Sun. | Notes |
| --- | --- | --- | --- | --- | --- |
| Blue | 20-25' | 25' | 20-25' | 25' | *1 |
| Green | 25' | 25' | 25' | No Service | *1 |
Schedules -- Last Updated: Aug 29, 2020
*1 - No service to Heifer International after 5:45 PM.
After 5:45 PM, Blue Line service frequency increases from every 25 minutes to every 20 minutes Mon-Sat, while Green Line service stops.
This results in an effective frequency reduction from every 12.5 minutes to every 20 minutes for the south loop after 5:45 PM
References & Helpful Links
Official Website for METRO Streetcar: Rock Region METRO
Maps
Official System Map - METRO Streetcar [PDF] [Last Accessed Aug 29, 2020]
Other Sources
Little Rock, USA at Urbanrail.net
Asset Notes
Colors for lines were taken from official map as of Aug 2020.