Indianapolis, Indiana, USA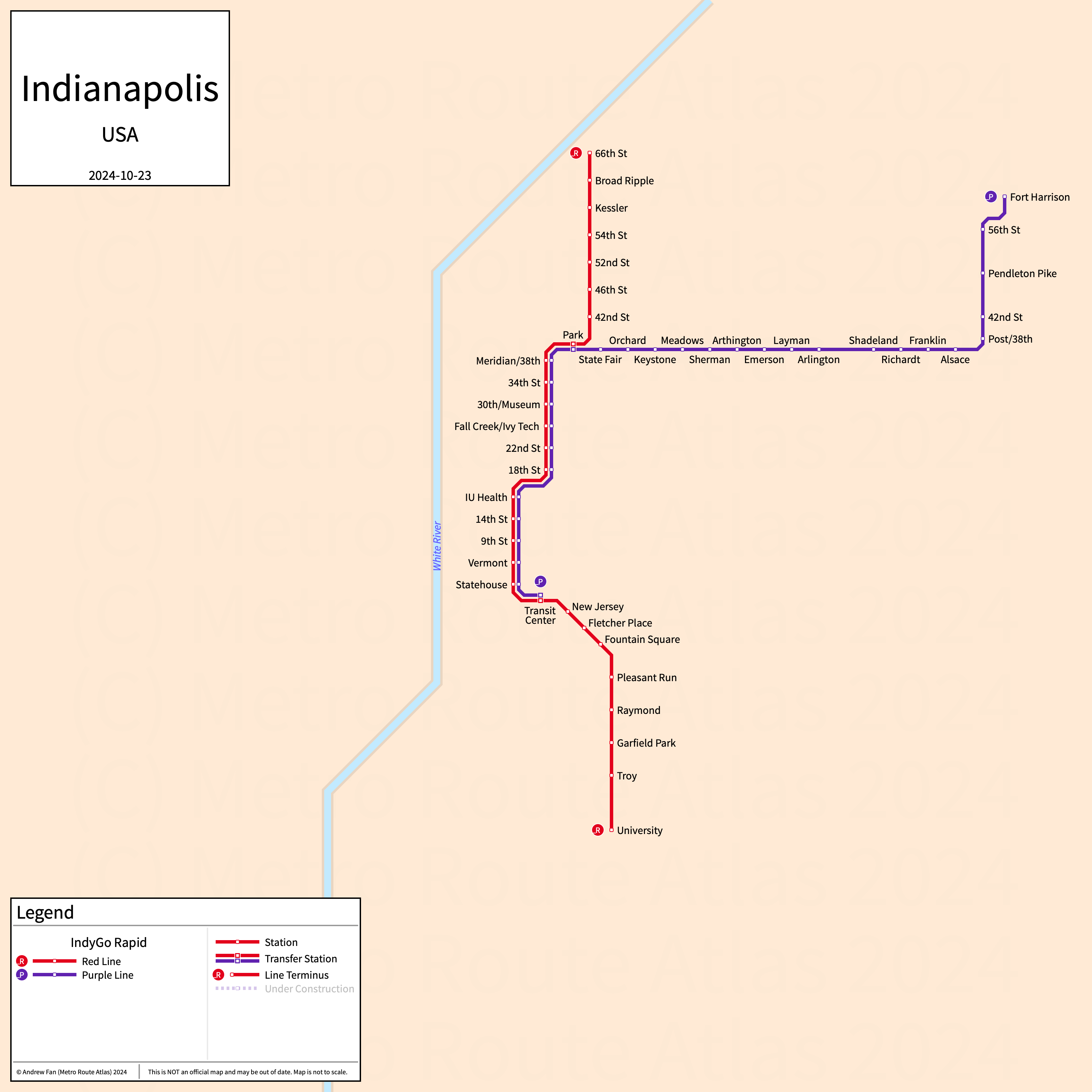 Table of Contents
Overview - Indianapolis
Located on the White River in central Indiana, Indianapolis is the capital and largest city by population in Indiana. It has approximately 886,000 inhabitants in the city proper as of 2019. The Indianapolis metropolitan area (Indianapolis-Carmel-Anderson) comprised 2,074,537 residents as of the 2019 US Census Bureau Estimate.
Indianapolis's rapid transit network consists of a single BRT line.
IndyGo Rapid
Opened 2019, IndyGo Rapid consists of one bus rapid transit service that serves the city of Indianapolis, Indiana and the surrounding suburbs.
Red Line
The IndyGo Rapid Red Line is a bus rapid transit service on a North-South alignment. It runs from 66th/College in the north to University in the south via the Julia M. Carson Transit Center in Downtown Indianapolis, serving 28 stations. Some services continue beyond the BRT corridor to the county line in both directions.
The Red Line was opened in September 2019. The Red Line is operated by the Indianapolis Public Transportation Corporation.
Headways
| Service | M-F Midday | M-F Rush | Sat. | Sun. | Notes |
| --- | --- | --- | --- | --- | --- |
| Red | 10' | 10' | 15' | 15' | |
Schedules -- Last Updated: Jun 20, 2020
References & Helpful Links
Official Website for IndyGo: IndyGo
Maps
All Official Maps - IndyGo [Last Accessed June 20, 2020]
Other Sources
Asset Notes
The IndyGo red line color was taken from the line map on the IndyGo website as of June 20, 2020. At least three different shades of red are in use on the website for the line; the color may be replaced at a later time.