Gulfport-Biloxi, Mississippi, USA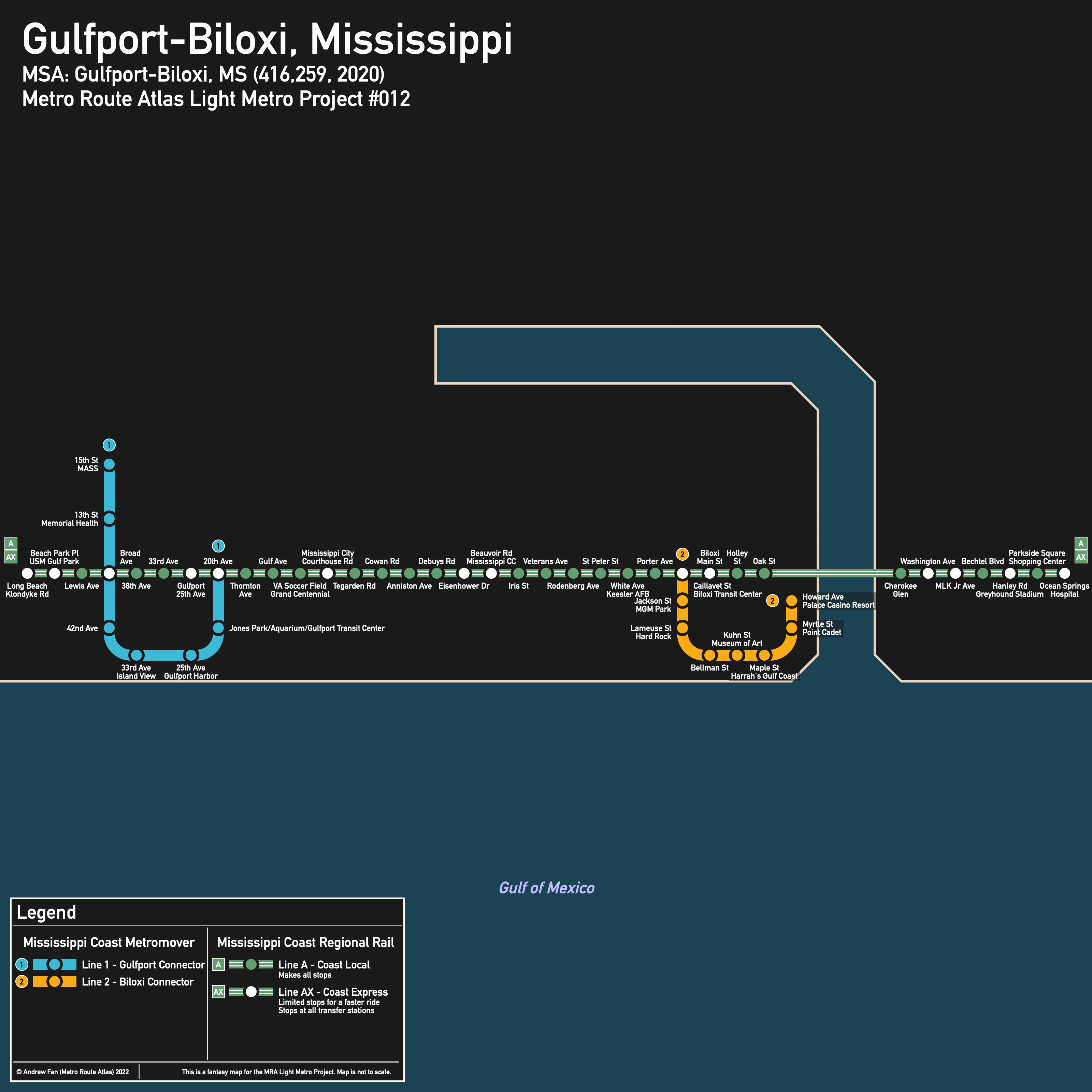 Disclaimer: The MRA Light Metro Project depicts a possible future network as of time of page creation. These maps do not (and most likely will never resemble) the actual higher order transit network of the cities in question.
Table of Contents
Overview - Gulfport-Biloxi
Located on Mississippi's Gulf Coast, Gulfport and Biloxi are the seats of Harrison County. Gulfport is the second largest city by population in Mississippi. It has approximately 72,926 inhabitants in the city proper as of 2020. To the east, Biloxi is the third largest city by population in Mississippi. It has approximately 49,449 inhabitants in the city proper as of 2020. The Gulfport-Biloxi metropolitan area comprised 416,259 residents as of the 2020 US Census.
As of 2020, the main non-government employers in Gulfport and Biloxi included the Memorial Hospital in Gulfport, the VA Gulf Coast Veterans Health Care System as well as numerous casinos in Biloxi. Main universities include William Carey University, University of Southern Mississippi, and Mississippi Gulf Coast Community College. The main airport is Gulfport-Biloxi International Airport. Notable stadiums include MGM Park and the Mississippi Coast Coliseum and Convention Center. Within the Metropolitan Area, notable employment sites and universities include the NCBC Gulfport as well as Keesler Air Force Base.
The core of the Mississippi Gulf Coast consists of a mostly continuous stretch of land with water inlets to the northwest and northeast that cut deep inland, turning the area into two peninsulas. Mullet Lake in particular is quite large. I-10 runs east-west in the north part of the metropolitan area, while I-110 runs through downtown Biloxi.
There are no major north-south corridors besides 25th Ave and Lorraine/Cowan Rd. The Pass Rd and Beach Blvd are the main east-west road corridors, while the CSX NO&M Subdivision runs east-west through the metropolitan area.
The local public transit agency in Gulfport and Biloxi is the Coast Transit Authority (System Map (August 29, 2021)). Gulfport Transit Center and Biloxi Transit Center are the main transit centers, though another is present in d'Iberville.
Below statistics are as of November 2022:
Bus routes running every [0, 10] minutes during weekday off-peak:
Bus routes running every (10, 15] minutes during weekday off-peak:
Bus routes running every (15, 30] minutes during weekday off-peak: 2
2020 Census Tract Data suggests that most of the density is north of the railroad tracks.
Network Design - Thought Process
The Mississippi Gulf Coast has a MSA population of 416,259 and therefore has 83 points to spend (1 point for 1 km regional rail and 5 points for 1 km light metro/new build regional rail).
First thing's first - there are two main rail corridors in the area. The north-south one completely misses every possible activity node and we will discard it from consideration immediately. The second, the east-west trunk, is the most promising transit corridor in the metropolitan area, covering it from east-west and linking the geographically constrained towns and cities along the route. With regards to how much to use, the westernmost destination before the line enters sparcely populated areas is the University of Southern Mississippi Gulf Park. Just a bit west is Long Beach (Klondyke Rd/Church Ave), which has a large parking lot that could be cross-purposed for use as a park and ride lot. We will use this as our western terminus - we could go further but with diminishing returns, and doing so would sacrifice potential other projects unless we were to go all the way to Bay St. Louis through mostly low density areas. On the eastern end, it makes sense to connect to Ocean Springs due to its proximity to Biloxi. The best destination to use as an anchor here is probably the Ocean Springs Hospital. Nothing to the east is particularly useful except maybe the police department/civic center, but the hospital is a much more important destination. It is notably off of the ROW, so we will use the 36.5 km ROW from Long Beach to Ocean Springs Rd, and then follow it 0.6 km to the hospital. This uses 36.5 + 3 points, leaving us with 43.5 points, or 8.7 km left for light metro.
In the spirit of Florida, which boasts the Metromover in Miami, and due to the limited amount of destinations, we will focus on local connector services in the form of people movers. On the Gulfport side, the NCBC, Memorial Health System, and downtown can be connected up, while the metropolitan area's most frequent main bus route connects the casinos of Biloxi. The VA Hospital complex and Mississippi Gulf Coast Community College - Harrison County Campus are located off of the main ROW and can also be connected. The MGCCC West Harrison campus and airport are too far to connect, so we will not cover them. Please also note that Keesler Air Force Base is directly next to the railway ROW, but there is no feasible way to deliver service inside the base.
For Gulfport, our starting location will be at 45th Ave and 15th St at the MASS Building. While the Navy CBC could be an alternative terminus, it is horribly car oriented and likely not worth attempting to serve since it is not human scale inside. The alignment will go down to Old Pass Rd, then Broad Ave, turning south until West Beach Blvd, where it will follow the coast. It will turn north along 20th Ave and terminate at the railway ROW. My rationale for this alignment is that it connects the Island View Casino, downtown, and hospital with the regional rail line. If we wanted to avoid duplicating the rail ROW, there would be no other east-west road to use, so we would have to separate a hospital people mover from the downtown people mover, removing a frequent running one seat ride. 20th Ave was chosen as it is next to the transit center and we want to avoid wasting too much trackage along the waterfront as we are just wasting catchment area by building next to it. The route is 4.6 km, leaving 4.1 km.
Now we have a choice - we can serve the VA Hospital or the community college, or serve neither. We cannot serve both, especially if we want to have anything in Biloxi. Alternatively we can ignore both, but we do not have enough trackage to connect all of Biloxi's main attractions. The community college itself isn't that big, but there are other things on the way (definitely not enough to justify a metro service, however). Meanwhile, the VA Medical Center has essentially nothing between it and the railway ROW. For these reasons, we will disqualify both options - if the community college had far more students (most of the area is parking lots), it might be a suitable terminus, but alas it doesn't even have enough enrollment to support a bus every 15 minutes.
With those options removed, all that is left is to determine where our 4.1 km will go in Biloxi. Caillavet St and Beach Blvd will be the main corridors. A Reynoir St northern terminus allows us to go as far as Kuhn St and the Ohr-O'Keefe Museum of Art, but this is not a suitable anchor terminus and results in a lot of dead trackage along the waterfront. if we want to reach Myrtle St, we can only go as far north as Division St, which is not very useful. Therefore, since the two main clusters of casinos are in the downtown and eastern areas, we will curtail the northwest to the railroad ROW and extend in the east up to the Palace Casino Resort via Myrtle St.
This gives us a regional rail corridor and two local people mover lines, covering the two main cities (albeit poorly) and connecting the string of communities along the coast.
Mississippi Coast Metromover
The Mississippi Coast Metromover consists of two disconnected people mover services along U-shaped alignments, with one in Gulfport and one in Biloxi.
Line 1 - Gulfport Connector
Line 1 of the Mississippi Coast Metromover is a 4.6 km light metro service on a U-shaped alignment. It runs from 15th St - MASS in the northwest to 20th Ave in the northeast, serving 8 stations.
The line has an average station spacing of 657m.
The line is named after the city it runs in. The line's color is taken from the Harrison County Development Commission Logo as of November 2022.
Line 2 - Biloxi Connector
Line 2 of the Mississippi Coast Metromover is a 4.1 km light metro service on a U-shaped alignment. It runs from Caillavet St - Biloxi Amtrak in the northwest to Palace Casino Resourt in the northeast, serving 8 stations.
The line has an average station spacing of 586m.
The line is named after the city it runs in. The line's color is taken from the Harrison County Development Commission Logo as of November 2022.
Mississippi Coast Regional Rail
The Mississippi Coast Regional Rail consists of a single east-west service running on the CSX NO&M Subdivision in an alternate timeline where Amtrak doesn't need to record footage of the railway to prove to CSX that the line is lightly enough used that passenger service won't impact freight operations.
Line A - The Coast Line
Line A of the Mississippi Coast Regional Rail is a 37.1 km regional rail service on an East-West alignment. It runs from Long Beach - Klondyke Rd in the west to Ocean Springs Hospital in the east via Gulfport and Biloxi, serving 35 stations. A limited stop service (marked with AX) skips most of the intermediate stations, allowing for faster rides between the main destinations along the route.
The line has an average station spacing of 1.09 km. Station spacing is denser in the cities and a bit more sparse elsewhere, mainly focusing on cross streets.
The line is named after one the metropolitan area's nicknames. The line's color is taken from the Harrison County website's Visit & Explore tab as of November 2022.
Realistic Applications
Put bluntly, aside from the regional rail line being a distant possibility if there was ever any money for it, Gulfport and Biloxi will likely never see rail based mass transit. Ravaged by hurricanes, low lying, and in what is consistently one of if not the poorest state in the union, none of the plans put forth in this page will be even remotely possible unless there is a massive economic upturn for the region.
Unlike with some cities in this project, I recommend that none of the metro proposals in this thought exercise be considered (except maybe as a bus, if that's possible). If Jacksonville can't support a downtown people mover, Gulfport and Biloxi most definitely cannot.
Also, if CSX is worried about 4 total Amtrak trains per day, they will definitely be worried about 4 regional rail trains per direction per hour (2 locals and 2 expresses)... which do have the benefit of not locking up grade crossings for more than a minute or two.
References & Helpful Links
External Citations