Anchorage, Alaska, USA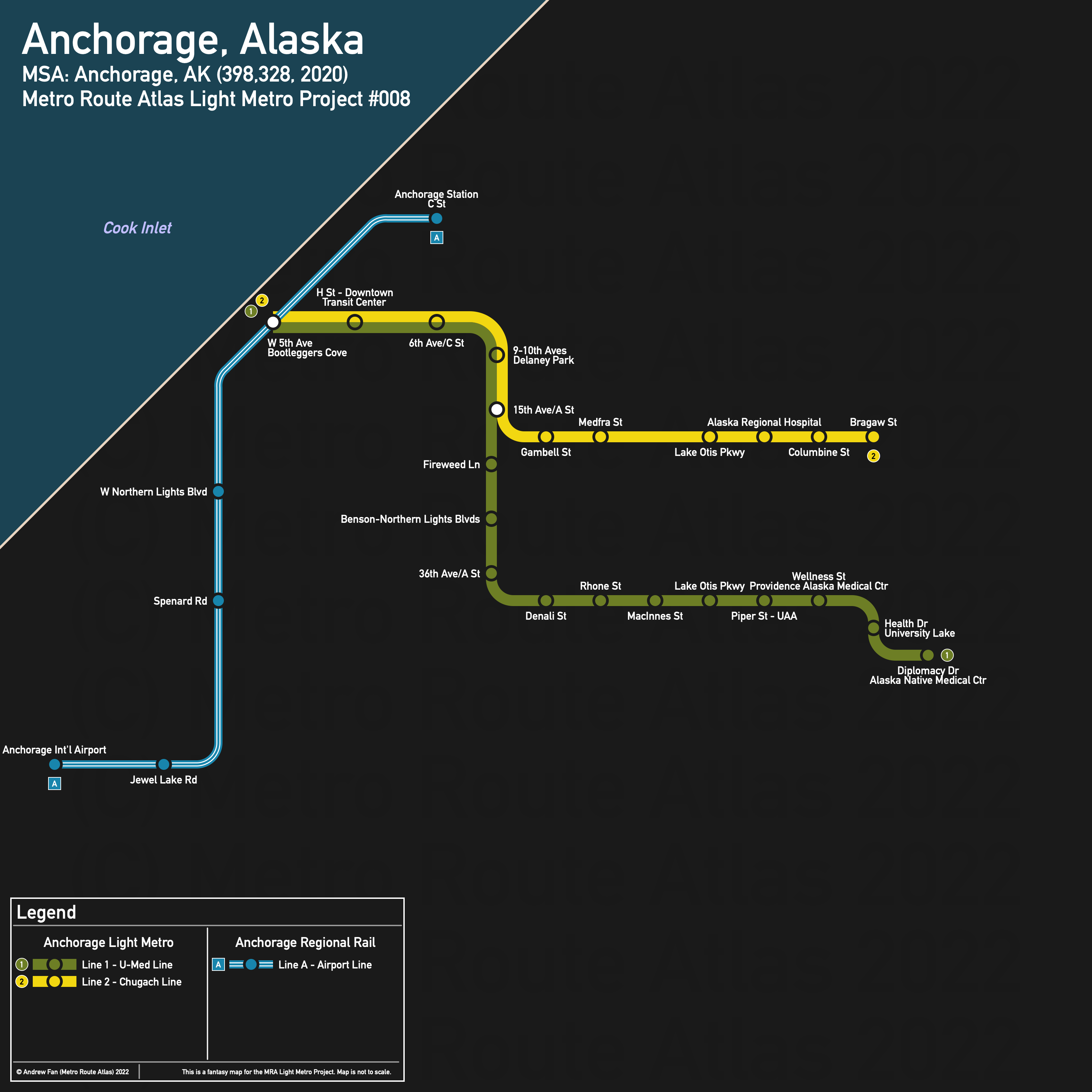 Disclaimer: The MRA Light Metro Project depicts a possible future network as of time of page creation. These maps do not (and most likely will never resemble) the actual higher order transit network of the cities in question.
Table of Contents
Overview - Anchorage
Located on the Cook Inlet, Anchorage is the capital of and the largest city by population in Alaska. It has approximately 291,247 inhabitants in the city proper as of 2020. The Anchorage metropolitan area comprised 398,328 residents as of the 2020 US Census.
Main universities include the University of Alaska Anchorage and Alaska Pacific University. The main airport is Ted Stevens Anchorage International Airport, the fourth busiest cargo airport in the world as of 2022.
Downtown Anchorage is squeezed between Ship Creek on the north and Chester Creek on the south, with the Cook Inlet on the northwest and west and mountains to the east. There are no highways in downtown, but the Spenard Thruway/Walter J. Hickel Pkwy and Seward Highway/State Highway 1 run north south through the metropolitan area. The Glenn Highway/State Highway 1 runs east-west.
The main rail corridor within the denser parts of the city runs along the water in downtown, then cuts south. It connects to the airport. The main north-south corridor is the A/C St corridor, with Arctic Blvd and Old Seward Highway running north-south as well. 15th Ave/Debarr Rd, Northern Lights Blvd, Tudor Rd, Raspberry Rd/Dowling Rd, and Dimond Blvd/Abbott Rd provide east-west connections.
The local public transit agency in Anchorage is PeopleMover (System Map (Sept 2021)) (2020 Transit Plan). The Downtown Transit Center is located at G St and 6th Ave, with additional transit centers at Dimond, Muldoon, and Eagle River.
Below statistics are as of the September 2021 timetable:
Bus routes running every [0, 10] minutes during weekday off-peak:
Bus routes running every (10, 15] minutes during weekday off-peak: 10, 20, 30, 40
Bus routes running every (15, 30] minutes during weekday off-peak: 25, 35, 55
2020 Census Tract Data suggests that most of the density is in Northeast Anchorage and southwest of downtown.
Network Design - Thought Process
Anchorage has a MSA population of 398,328 and therefore has 80 points to spend (1 point for 1 km regional rail and 5 points for 1 km light metro/new build regional rail).
When considering alignments, the first thing we've looked at in the past has typically been regional rail. There are two viable corridors in Anchorage - one from the airport to downtown and another from Dimond Transit Center to downtown. From the airport to the junction, it's 4 km. It is 4.8 km from the junction to Dimond Transit Center and 6 km from the junction to the terminus just west of C St. The airport route would cost 10 points and should be preferred over the Dimond alternative as the Dimond alternative runs through industrial areas with no residential or concentrated commercial activity, and the Dimond Transit Center is fairly far out with most services from it heading towards the city center. Unfortunately, the rail corridor also travels next to the water for a good chunk of its route, meaning that it misses most of the potential ridership and destinations at the north side of the Anchorage Bowl and has low catchment areas due to skirting downtown.
As for light metro, we must first give Anchorage a shoutout for being a small city with an exceptional frequent bus network. Northern Lights Blvd, 15th Ave/Debarr Rd, and the 3rd/5th Ave corridors are excellent east-west corridors for us to consider, while Spenard Rd, Arctic Blvd, A/C Sts, and Lake Otis Pkwy are the preferred north-south corridors under consideration.
This being said, the must-do corridor connects the U-Med District with downtown. Currently covered with a bus to downtown every 7.5 minutes during weekday off-peak, we have a number of options. Starting on Diplomacy Dr at the current Diplomacy & ANMC N bus stop, we quickly turn north, curving over parking lots to get to Ambassador Dr, following it west, and turning north on Elmore Rd. We turn on and follow Providence Dr/36th Ave west. As for where to turn north, the strongest straight corridor is the A/C St corridor. In this case, A St will be preferred since it is wider for most of its route. It is 7.3 km to 15th Ave, or 36.5 points. In downtown, 6th Ave is preferred as that's where the transit center is, and since it is in walking distance of the entire downtown. It is 1.7 km to H St and the Downtown Transit Center, or 8.5 points. This route totals 45 points, leaving us with 35.
If we were to use the 15th Ave/Debarr corridor, we would unfortunately not be able to make it all the way to the Muldoon Transit Hub. With cutbacks, first we eliminate mostly empty land, then single family detached housing without sidewalks, then a park. Cutting back to the transfer point at Bragaw St consumes 4.1 km, or 20.5 points, leaving us with 14.5 points remaining.
From here, we can either extend, or take a regional corridor and extend. Taking the airport corridor leaves us with 4.5 points, or 0.9 km of trackage remaining. In terms of coverage area, the regional corridor is still better, so we will take that, and then extend our light metro west to 5th Ave and Pacific Place via L St to connect to the regional corridor (600m). There's some trackage left over but not enough to really go anywhere, and so we'll stop here.
With this we have our network. It serves downtown, the airport, midtown, three medical centers, and two universities. Not too shabby.
Anchorage Light Metro
The Anchorage Light Metro consists of two light metro services that interline within downtown and split to serve destinations in the northeast part of the city.
Line 1 - U-Med Line
Line 1 of the Anchorage Light Metro is a 9.6 km light metro service on an East-West alignment. It runs from W 5th St in the west to Alaska Native Medical Center in the east, serving 16 stations.
The line has an average station spacing of 640 m.
The line is named after the district it serves. The line color is the average of the yellow and green in the Seawolves' logo as taken from Wikipedia on March 30, 2022
Line 2 - Chugach Line
Line 2 of the Anchorage Light Metro is a 6.4 km light metro service on an East-West alignment. It runs from W 5th St in the west to Bragaw St in the east, serving 11 stations.
The line has an average station spacing of 640 m.
The line is named after Chugach State Park. The line color is taken from the flag of Anchorage as per Wikipedia on March 30, 2022.
Anchorage Regional Rail
The Anchorage Regional Rail consists of a single service connecting downtown and the Airport.
Line A - Airport Line
Line A of the Anchorage Regional Rail is a 10 km regional rail service on a northeast-southwest alignment. It runs from Anchorage Station in the northeast to Anchorage International Airport in the southwest, serving 6 stations.
The line has an average station spacing of 1.8 km.
The line is named after the airport. The line color is taken from the left side of the gradient in the airport's logo on their website as of March 30, 2022.
Realistic Applications
To put it bluntly, as things stand, the only viable line is Line 1 of the Light Metro. The regional rail line likely wouldn't get enough passengers most of the year to justify a half hourly service (unless it is subsidized heavily), and it's very short, meaning that if there isn't much traffic, an express bus is more time competitive. Line 2 is also probably just best served with a bus like it is now.
That isn't to say things will always stay this way. While the city's growth has slowed, higher density development along transit-supportive corridors could lead to enough demand to justify another metro corridor.
Time will tell.
References & Helpful Links
External Citations