Tucson, Arizona, USA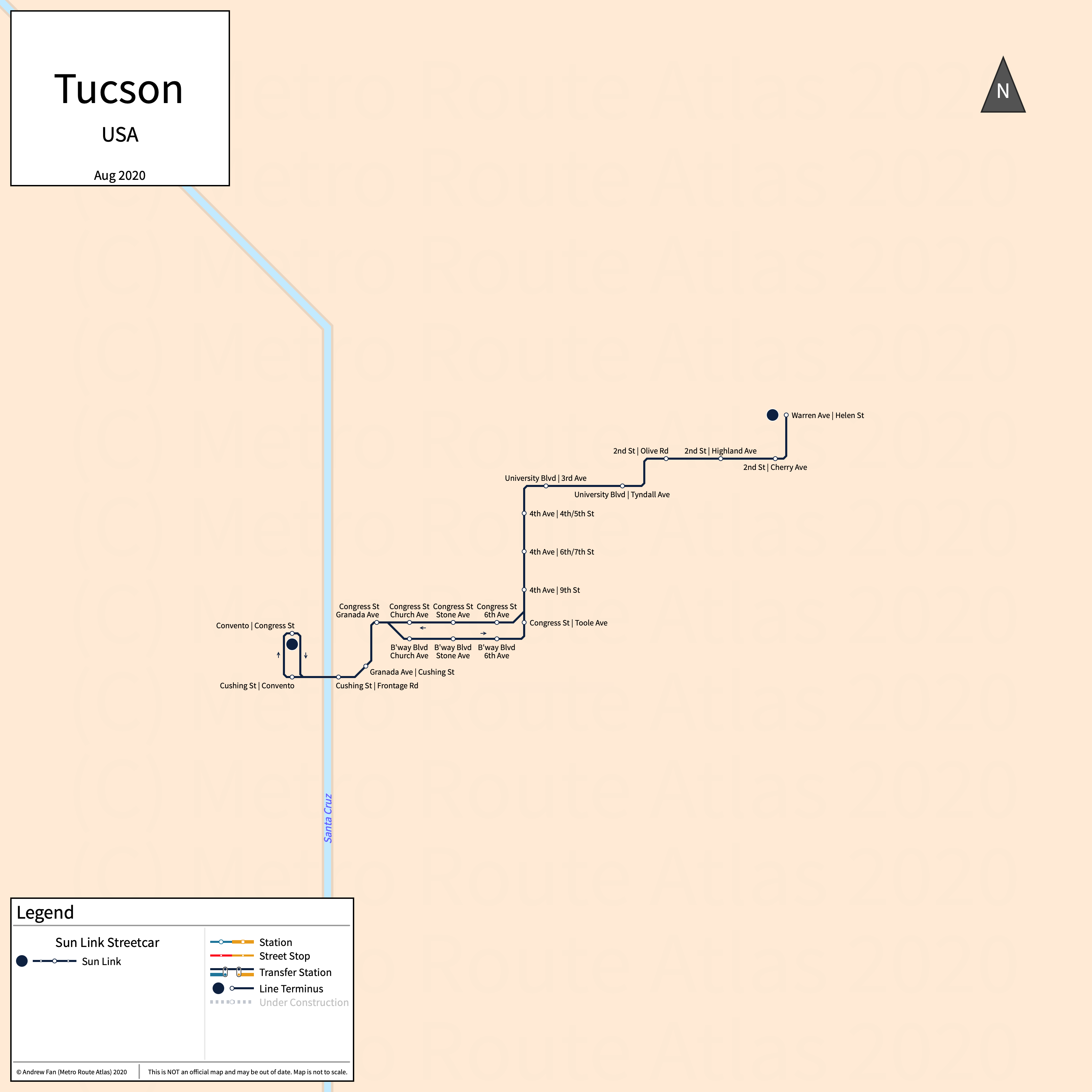 Table of Contents
Overview - Tucson
Located on the Santa Cruz River, Tucson is the seat of Pima County and the second largest city by population in Arizona. It has approximately 520,000 inhabitants in the city proper as of 2010. The Tucson metropolitan area (Tucson) comprised 1,047,279 residents as of the 2019 US Census Bureau Estimate.
Tucson has a modern streetcar service converted from a historic streetcar.
Sun Link Streetcar
Opened 2014, Sun Link consists of a modern streetcar service that serves the city of Tucson, Arizona.
Sun Link
Sun Link is a streetcar service on an East-West alignment. It runs from Convento | Congress St in the west to Warren Ave | Helen St in the east via downtown Tucson, serving 21 stations of which 9 are in a single direction only.
Sun Link was opened in July 2014 after the Old Pueblo Trolley historic streetcar was double tracked and extended. Sun Link is owned by the City of Tuscon.
Headways
| Service | M-F Midday | M-F Rush | Sat. | Sun. | Notes |
| --- | --- | --- | --- | --- | --- |
| Sun Link | 10' | 10-15' | 15' | 20' | |
Schedules -- Last Updated: Jul 30, 2020
References & Helpful Links
Official Website for Sun Link: Sun Link
Maps
Official System Map - Sun Link [PDF] [Last Accessed Jul 30, 2020]
Other Sources
Asset Notes
Sun Link line and icon color taken from route map as of July 2020