San Bernardino, California, USA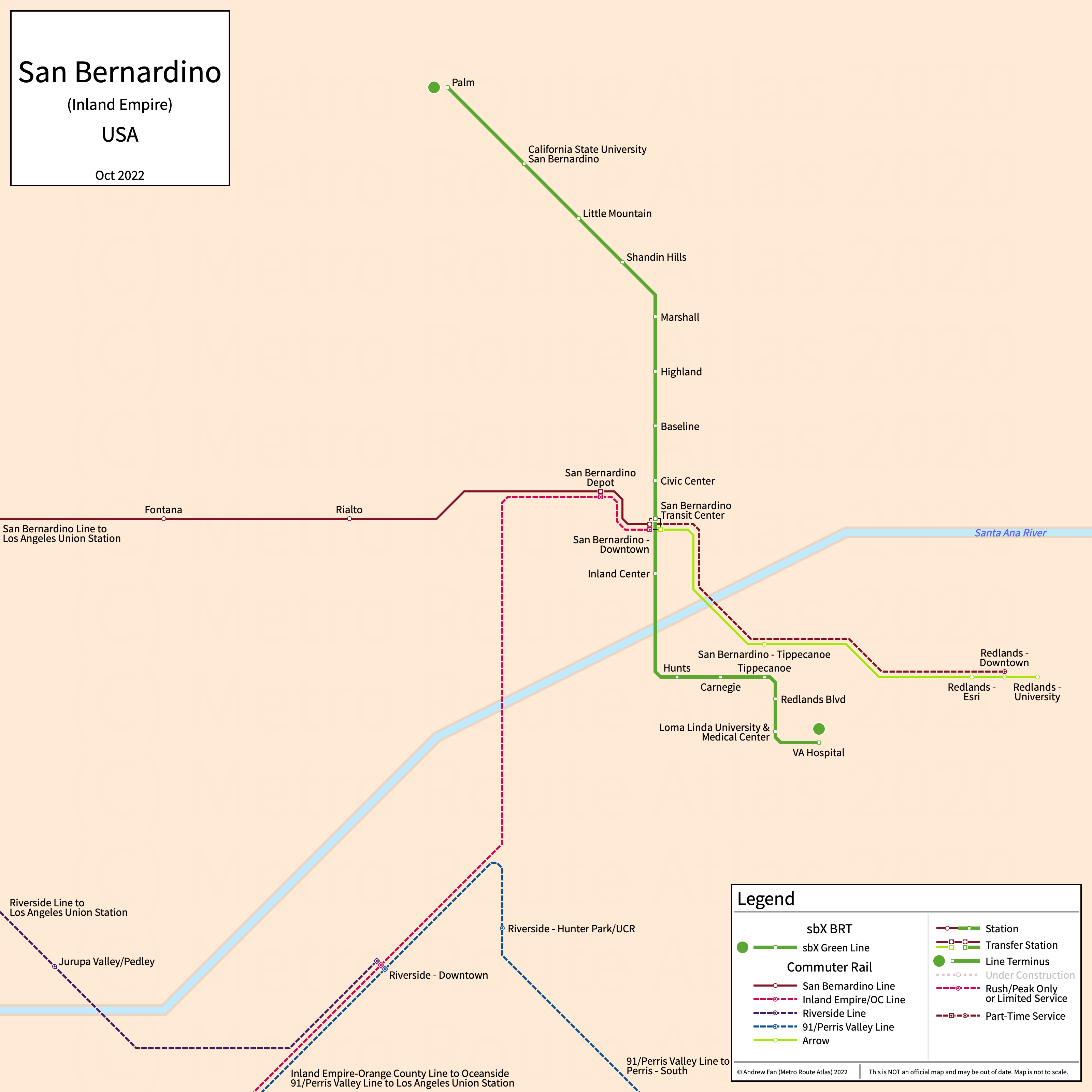 Table of Contents
Overview - San Bernardino
Located on the Santa Ana River, San Bernardino is the seat of San Bernardino County. It has approximately n 217,000 inhabitants in the city proper as of 2017. The San Bernardino metropolitan area (Riverside-San Bernardino-Ontario), also known as the Inland Empire, comprised 4,622,361 residents as of the 2018 US Census Bureau Estimate.
San Bernardino's rapid transit network consists of a single bus rapid transit service. It also has two commuter rail lines.
SBX
Opened 2014, the sbX consists of a bus rapid transit service that serves the city of San Bernardino, California and the surrounding suburbs.
sbX Green Line
The sbX Green Line is a bus rapid transit service on a north-south alignment. It runs from Palm in the north to the VA Hospital in the south via downtown San Bernardino, serving 16 stations.
The sbX Green Line was opened in April 2014. The sbX Green Line is operated by Omnitrans.
Headways
| Service | M-F Midday | M-F Rush | Sat. | Sun. | Notes |
| --- | --- | --- | --- | --- | --- |
| sbX Green | 15' | 10' | 20' | No Service | |
Schedules -- Last Updated: Jan 19, 2020
Metrolink
For information on the Inland Empire-Orange County Line and San Bernardino Line, refer to the Los Angeles Page.
References & Helpful Links
Official Website for sbX: Omnitrans
Official Website for Metrolink: Metrolink
Maps
Official Line Map - sbX [PDF] [Last Accessed Jan 19, 2020]
Official System Map - Metrolink [PDF] [Last Accessed Jan 13, 2020]
Other Sources
San Bernardino, USA at BRTDATA.org
Asset Notes
The sbX Green Line line color was taken from the Omnitrans icon on their website as of Jan 2020 since the timetable is in blue instead of green