Fort Myers-Cape Coral, Florida, USA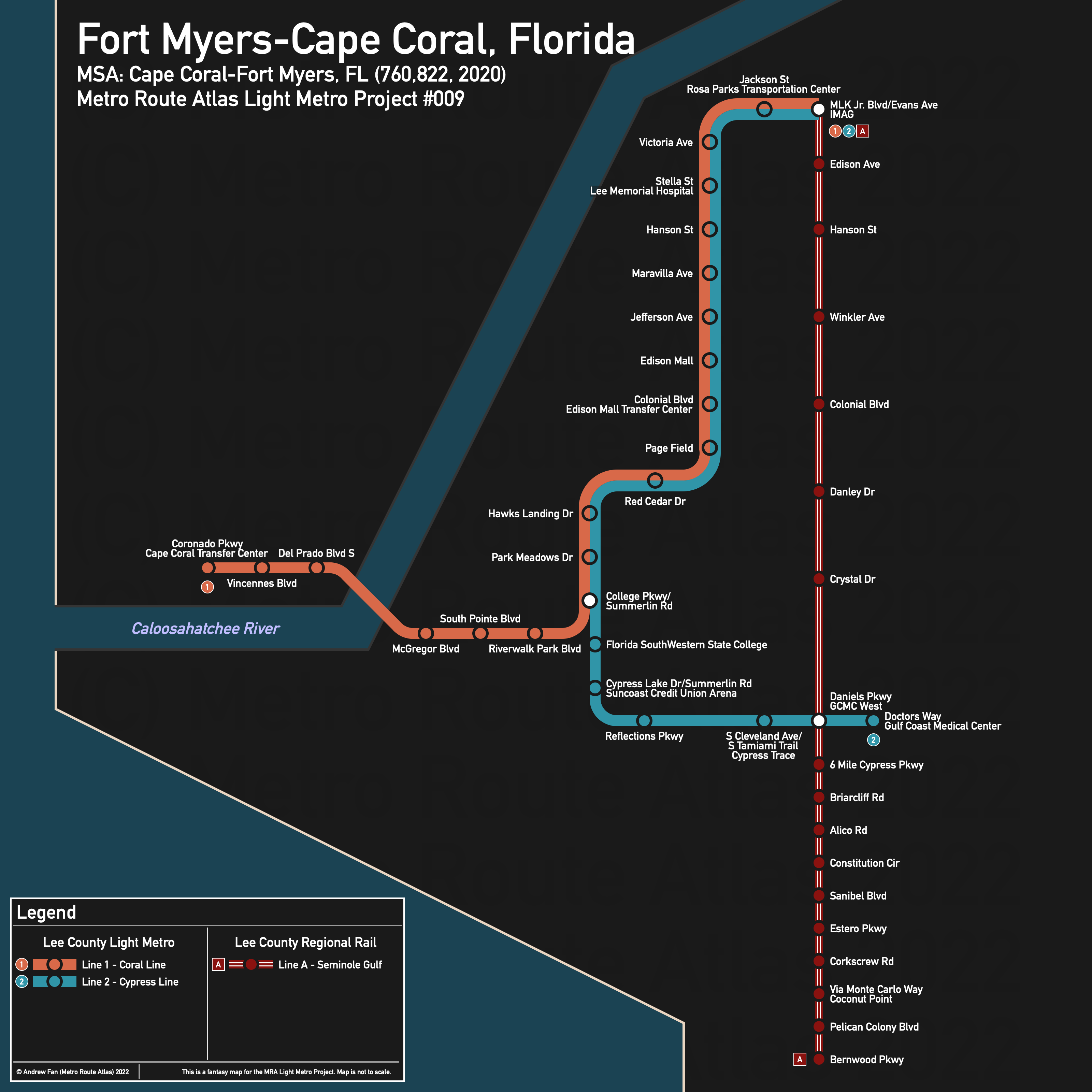 Disclaimer: The MRA Light Metro Project depicts a possible future network as of time of page creation. These maps do not (and most likely will never resemble) the actual higher order transit network of the cities in question.
Table of Contents
Overview - Fort Myers-Cape Coral
Located on opposite sides of the Caloosahatchee River, Fort Myers is the seat of Lee County while Cape Coral is the 9th largest city by population in Florida. Fort Myers has approximately 86,395 inhabitants in the city proper as of 2020 while Cape Coral has approximately 194,016. The Fort Myers-Cape Coral metropolitan area comprised 760,822 residents as of the 2020 US Census.
As of 2016, the main non-government employers in Lee County included Lee Health System, Chico's FAS, and Florida Gulf Coast University . Main universities include Florida Gulf Coast University, Florida SouthWestern State College, Fort Myers Technical College, and Hodges University. The main airport is Southwest Florida International Airport. Notable stadiums include Hammond Stadium and Hertz Arena.
Most geographic and manmade barriers in Lee County consist of waterways. The Caloosahatchee River empties out to the southwest and is wide enough to only allow a few fixed crossings between Fort Myers and Cape Coral. Swampland and I-75 lie to the east of Fort Myers. Besides this, there are no real barriers within the cities themselves when compared to the river.
A rail line runs north-south from downtown Fort Myers towards Naples (but does not reach it). Major north-south roads in Fort Myers include McGregor Blvd, Summerlin Rd, Cleveland Ave (US-41), and Metro Pkwy while major east-west roads include Dr. MLK Jr Blvd, Hanson St, Colonial Blvd, College Pkwy, Daniels Pkwy, and Gladiolus Dr. Cape Coral has an irregular grid of arterial roads, with Cape Coral Pkwy, Veterans Pkwy, and Pine Island Rd being the main east-west roads and Del Prado Blvd being one of the main north-south roads.
The local public transit agency in Lee County is LeeTran (System Map (July 2021?)). There are transfer stations in Fort Myers (Rosa Parks Transportation Center), Cape Coral (SE 8th Ct and SE 47th Terrace), and at Edison Mall.
Below statistics are as of May 2022 timetables:
Bus routes running every [0, 10] minutes during weekday off-peak: None
Bus routes running every (10, 15] minutes during weekday off-peak: None
Bus routes running every (15, 30] minutes during weekday off-peak: 100, 140
2020 Census Tract Data suggests that the largest density is west of Cleveland Ave between Colonial Blvd and College Pkwy. However, most of the region is low density
Network Design - Thought Process
Fort Myers-Cape Coral has a MSA population of 760,822 and therefore has 152 points to spend (1 point for 1 km regional rail and 5 points for 1 km light metro/new build regional rail).
Looking at the area, there are a few things to note. First, the only bus corridors in the entire metropolitan area with service every 30 minutes or better are along Palm Beach Blvd and Cleveland Ave, with the latter having better service. Second, Cape Coral is almost entirely single family residential, excluding the downtown area, and effectively has only two possible transit corridors - Cape Coral Pkwy (eastern half only) and Del Prado Blvd. Unfortunately, Cape Coral Hospital is in a fairly awful location as far as connectivity goes, with it being far from Downtown Fort Myers and with a Del Prado Blvd rapid transit route being underwhelming compared to others. And finally, SW Florida International Airport and Florida Gulf Coast University, two of the biggest possible ridership draws, are located so far away from anything else that if we wanted to build a line to either one of them, that would be our only line in the entire network. For this reason, we are no longer considering these at all as there are routes that can benefit far more people. FGCU (which is surprisingly spread out from a land area perspective, meaning that you'd need to drive or take a shuttle bus to even get to a station on-campus regardless) can run a shuttle down Estero Blvd to the railway line if they want.
The railway line will be our first order of business. It runs from Tice in the northeast all the way down past the county line in the south. Unfortunately, the alignment in northeast Fort Myers is somewhat... bad, with no anchor, a poor catchment area, and overall lacking. On the south end, there isn't really a 'fantastic' ending point, though Bonita Beach Rd is the last real possible station location given that we're basing the LMP numbers off of the metropolitan area population and any further would go past the county line. We will therefore start at the intersection of MLK Jr. Blvd and Evans Ave, and go as far as we can based off of how much light metro we build.
For light metro, we want to make use of the Cleveland Ave corridor. Starting at MLK/Evans in the northeast, the line will go west along MLK Jr and turn onto Cleveland Ave. It will run a block away from the Rosa Parks Transportation Center/Greyhound, which is not worth a deviation from the avenue. From here, it runs south past Lee Memorial Hospital to Winkler Ave. There is a transit center at Edison Mall but it's on the southeast side - that being said, Florida SouthWestern State College is on Summerlin Rd and Boy Scout Dr/Fowler St provide a nice way to swing over there via Page Field. From Winkler Rd, the line crosses over parking to align with the western side of the mall at The Twisted Crab/Subway/Room 1100A/whatever business it is when the you, the reader, happen to read it. From here, we follow the road to the south access road and go along the east side, aligning the line with the creek on the other side of Colonial Blvd. The line crosses over to Fowler St, then follows it, Boy Scout Dr, and Summerlin Rd to College Pkwy. This is 11.8 km, or 59 points, leaving us with 93 points.
While it is unfortunate to branch just before a destination, in order to actually serve Cape Coral, we will send a branch west down College Pkwy, the Cape Coral Bridge alignment, and Cape Coral Pkwy to just east of Coronado Pkwy, in walking distance to the Cape Coral Transfer Center. This is 7.3 km, or 36.5 points, leaving us with 56.5 points.
For the other branch, we can continue down Summerlin and then turn east on Cypress Lake Dr. While there are still destinations on Summerlin such as HealthPark Medical Center, Gulf Coast Medical Center is easily reachable and also comes with some additional benefits - the main one being a connection with the north-south railway and the other being proximity to Hammond Stadium. In order to not preclude an airport extension but also keeping in mind that the more metro we build the less regional rail we build, we will terminate at Doctors Way, 4.9 km, leaving us with 32.1 km of regional rail.
For our regional line, we will use 32 km from MLK Jr Blvd/Evans Ave to Bernwood Pkwy. While this isn't an optimal terminus, it makes do with what we have, as if we were to cut the line back to say Pelican Colony Blvd, there wouldn't be enough light metro trackage gained to make any real progress elsewhere.
Our final network hits both downtowns, two medical centers, a fairly large college, and one of the region's airports. Not too extensive, but a respectable network for the area's size.
Lee County Light Metro
The Lee County Light Metro consists of two light metro services sharing a corridor in Fort Myers along MLK Jr. Blvd and Cleveland Ave/Summerlin Rd, before branching with one line heading to Cape Coral while the other heads to the Gulf Coast Medical Center.
Line 1 - Coral Line
Line 1 of the Lee County Light Metro is a 19.1 km light metro service on a Northeast-Southwest alignment. It runs from MLK Jr Blvd/Evans Ave - IMAG in the northeast to Coronado Pkwy - Cape Coral Transfer Center in the southwest, serving 20 stations.
The line has an average station spacing of 1 km, partially due to the bridge and resultant lack of stations for a 3.4 of the route.
The line is named after Cape Coral, aiming for a natural theme. The color of the line is taken from the Lee County Color Palette.
Line 2 - Cypress Line
Line 2 of the Lee County Light Metro is a 16.7 km light metro service on a North-South alignment. It runs from MLK Jr Blvd/Evans Ave - IMAG in the north to Doctors Way - Gulf Coast Medical Center in the south, serving 20 stations.
The line has an average station spacing of 879 m.
The line is named after Cypress Lake Drive, aiming for a natural theme. The color of the line is taken from the Lee County Color Palette.
Lee County Regional Rail
The Lee County Regional Rail network consists of a single north-south line.
Line A - Seminole Gulf Line
Line A of the Lee County Regional Rail is a 32 km regional rail service on a North-South alignment. It runs from MLK Jr Blvd/Evans Ave - IMAG in the north to Bernwood Pkwy in the south, serving 18 stations.
The line has an average station spacing of 1.882 km.
The line is named after the railroad on which it operates. The color of the line is taken from the Bay Colony RR logo from Wikipedia as of May 11, 2022.
Realistic Applications
To be frank, a region with only two bus routes that run every 30 minutes or less and is characterized by swaths of single family houses and wide arterials is unlikely to support rapid transit (though the redevelopment plans for Downtown and Midtown Fort Myers will make the area much more transit supportive). That being said, both light metro lines do hit some important destinations and the regional line could see some use given that it's already mostly there and part of it does serve passengers (albeit not regularly). Unless the local governments magically come up with the money to implement large scale infrastructure projects, a high quality arterial bus network could probably handle all of the area's capacity needs for the foreseeable future.
References & Helpful Links
External Citations