Hartford, Connecticut, USA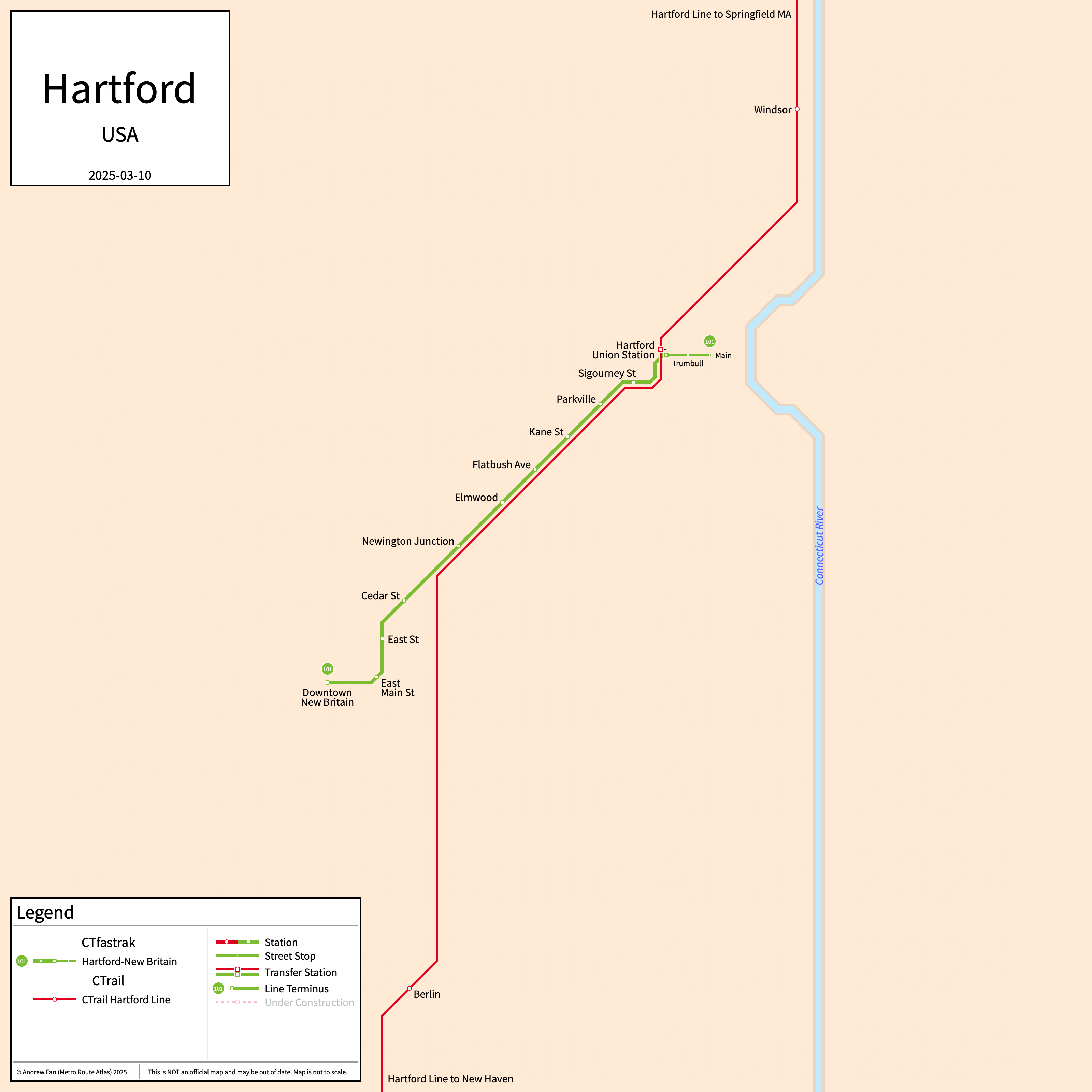 Table of Contents
Overview - Hartford
Located on the Connecticut River, Hartford is the capital of Connecticut. It has approximately 125,000 inhabitants in the city proper as of 2010. The Hartford metropolitan area (Hartford-East Hartford-Middletown) comprised 1,206,300 residents as of the 2018 US Census Bureau Estimate.
Hartford's rapid transit network consists of a bus rapid transit open busway. It also has a commuter rail service.
CTfastrak
Opened 2015, CTfastrak consists of a bus rapid transit corridor that serves the cities of Hartford and New Britain as well as nearby suburbs.
CTfastrak
CTfastrak is a 15.1 km fully segregated bus rapid transit open busway on a North-Southwest alignment, running from Hartford Union Station in the north to Downtown New Britain in the southwest and serving 10 stations. The corridor is served by a number of local and express routes, with the 101 being the primary local all-stop service. The 102 runs less frequently but travels past New Britain to Bristol and is not shown. Note that the strip map above only shows the busway itself and does not show services.
CTfastrak was opened in March 2015. CTfastrak is operated by Connecticut Transit.
Headways
| Service | M-F Midday | M-F Rush | Sat. | Sun. | Notes |
| --- | --- | --- | --- | --- | --- |
| 101 | 12' | 6-8' | 12' | 20' | |
| 102 | 60' | 30' | 60' | 60' | |
Schedules -- Last Updated: Jan 13, 2020
CTrail
Opened June 2018, the CTrail's Hartford Line consists of a commuter rail service in Connectcut, with more stations planned for opening.
Hartford Line
The Hartford Line is a 100 km commuter rail service on a north-south alignment, running from Springfield in the north to New Haven in the south via Hartford on tracks owned by Amtrak. There are 9 stations on the route with more under design and construction.
The Hartford Line was opened in June 2018. The Hartford Line is operated by Amtrak and CTrail.
References & Helpful Links
Official Website for CTfastrak: CTfastrak
Official Website for Hartford Line: CTrail
Maps
Official System Map - CTrail [Last Accessed Jan 13, 2020]
Official Line Map - Hartford Line [PDF] [Last Accessed Jan 13, 2020]
Official System Map - CTfastrak [PDF] [Last Accessed Jan 13, 2020]
Other Sources
Hartford County, USA at BRTDATA.org
Asset Notes
Hartford Line and CTfastrak icon colors taken from CTrail and CTfastrak icons on Wikipedia as of October 15, 2019.