Norfolk, Virginia, USA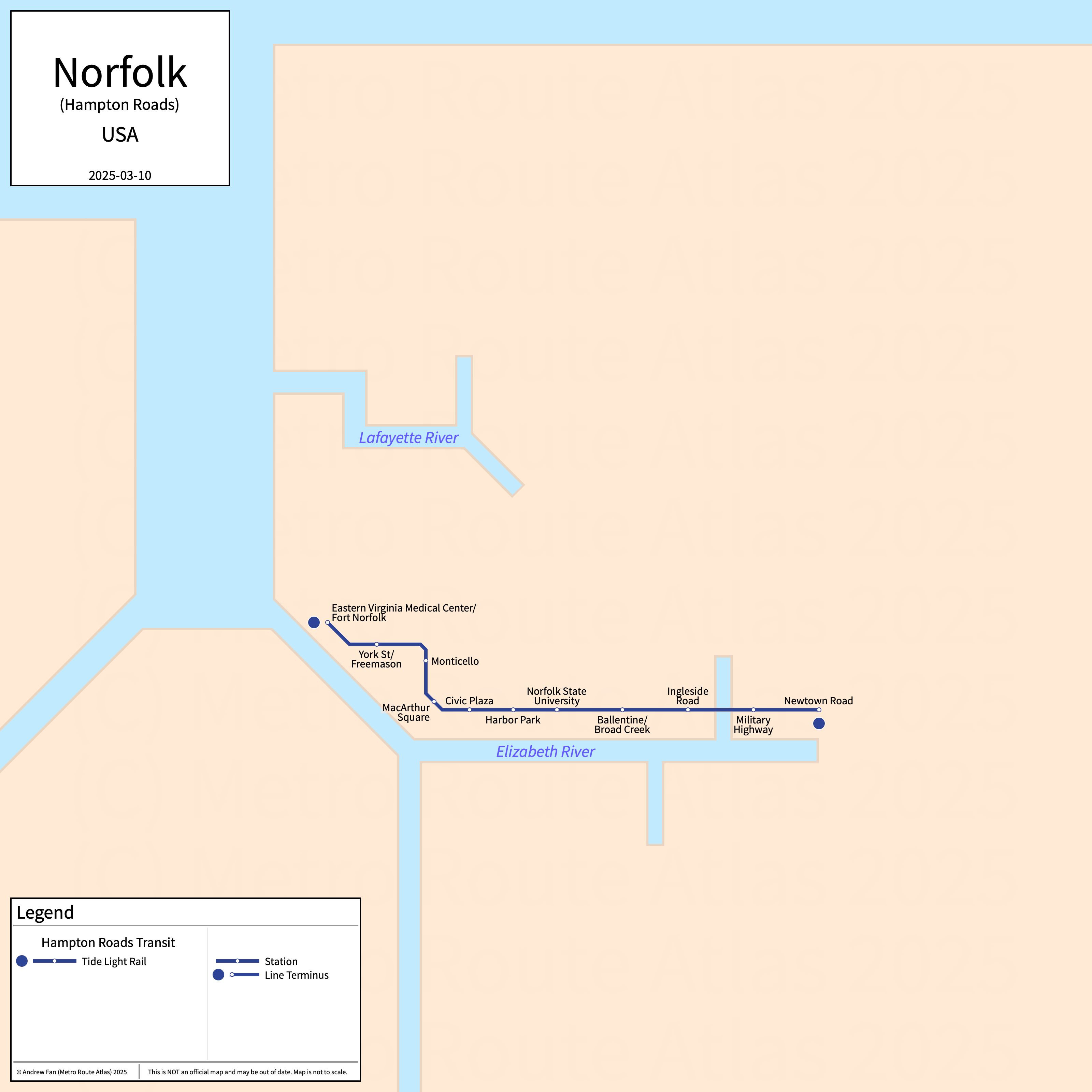 Table of Contents
Overview - Norfolk
Located on the Elizabeth River, Norfolk is the second largest city by population in Virginia. It has approximately 244,700 inhabitants in the city proper as of 2017. The Hampton Roads metropolitan area (Virginia Beach-Norfolk-Newport News) comprised 1,728,733 residents as of the 2018 US Census Bureau Estimate.
The Hampton Roads rapid transit network consists of a single light rail service running exclusively in Norfolk.
Tide Light Rail
Opened 2011, the Tide Light Rail consists of a single light rail service that serves the city of Norfolk, Virginia. Potential extensions north and east have been considered but extensions across the border to Virginia Beach were shelved.
Tide Light Rail
The Tide Light Rail is a light rail service on a East-West alignment, running from Fort Norfolk in the west to Newtown Road in the east via downtown Norfolk, serving 11 stations.
The Tide was opened in August 2011. The Tide is owned and operated by Hampton Roads Transit.
Headways
| Service | M-F Midday | M-F Rush | Sat. | Sun. | Notes |
| --- | --- | --- | --- | --- | --- |
| Tide | 15' | 10' | 15' | 15' | |
Schedules -- Last Updated: Jan 12, 2020
References & Helpful Links
Official Website for Tide Light Rail: Hampton Roads Transit
Maps
Other Sources
Asset Notes
Tide Light Rail line color uses the dark blue from the HRT logo as of January 2020.