Cincinnati, Ohio, USA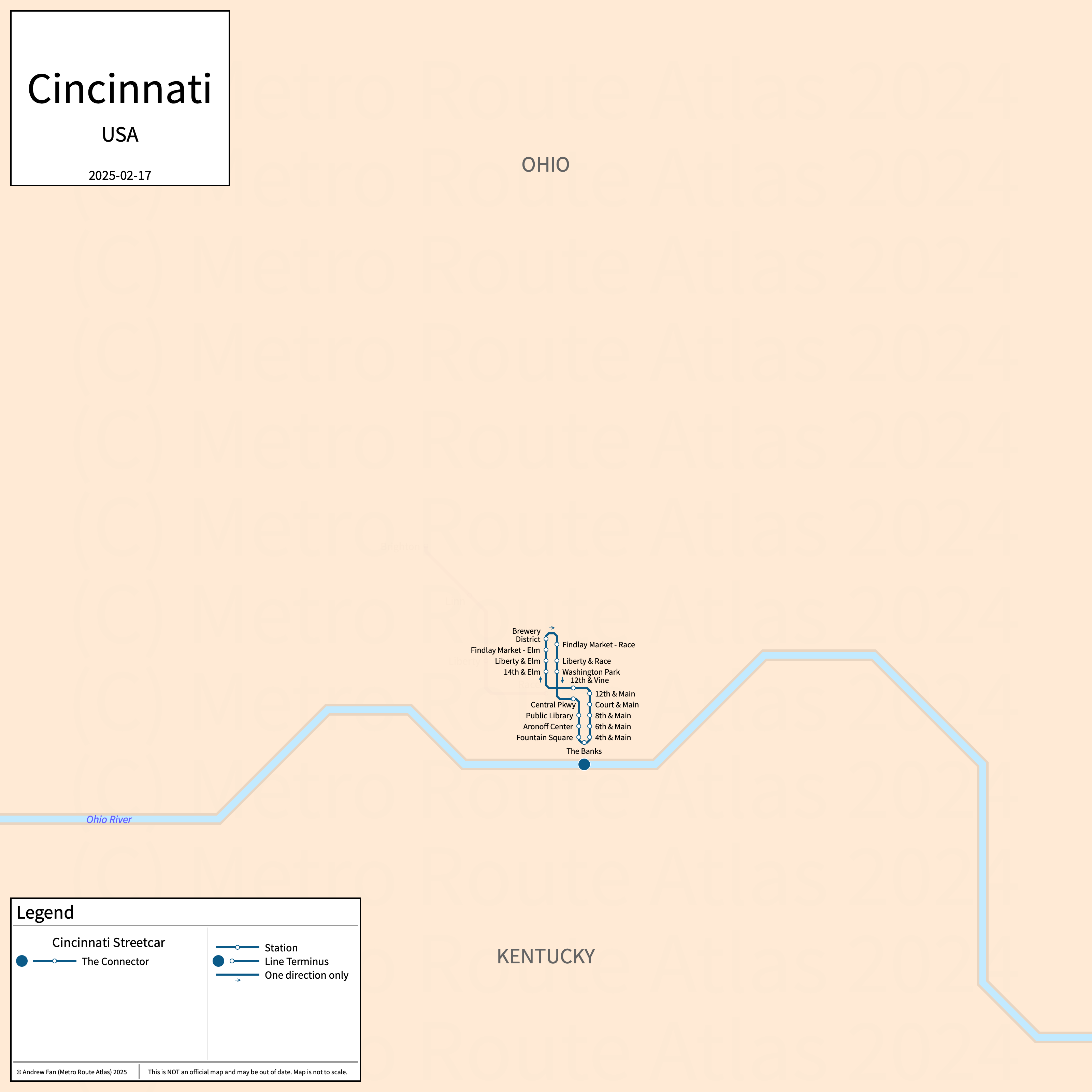 Table of Contents
Overview - Cincinnati
Located on the Ohio River across from Kentucky and close to the eastern border with Indiana, Cincinnati is the seat of Hamilton County and the third largest city by population in Ohio. It has approximately 304,000 inhabitants in the city proper as of 2019. The Cincinnati metropolitan area (Cincinnati) comprised 2,221,208 residents as of the 2019 US Census Bureau Estimate.
Cincinnati has a single modern streetcar service.
Cincinnati Streetcar
Cincinnati Streetcar
The Cincinnati Streetcar (also known as the Cincinnati Bell Connector) is a modern streetcar service on a North-South alignment. It runs from Findlay Market in the north to The Banks in the south on a single track loop, serving 18 single direction stops.
The Cincinnati Streetcar was opened in September 2016. The Cincinnati Streetcar is owned by the City of Cincinnati.
Headways
| Service | M-F Midday | M-F Rush | Sat. | Sun. | Notes |
| --- | --- | --- | --- | --- | --- |
| CBC | | | | | *1 |
*1 - Service currently suspended due to COVID-19; timetables not available at time of making page
Schedules -- Last Updated: Aug 16, 2020
References & Helpful Links
Cincinnati Bell Connector at Wikipedia
Official Website for Cincinnati Bell Connector: City of Cincinnati
Maps
Official Line Map - Cincinnati Streetcar [PDF] [Last Accessed Aug 16, 2020]
Other Sources
Cincinnati, USA at Urbanrail.net
Asset Notes
Cincinnati Streetcar color taken from official route map as of August 16, 2020.