Belém, Pará, Brazil
Belém, Pará, Brasil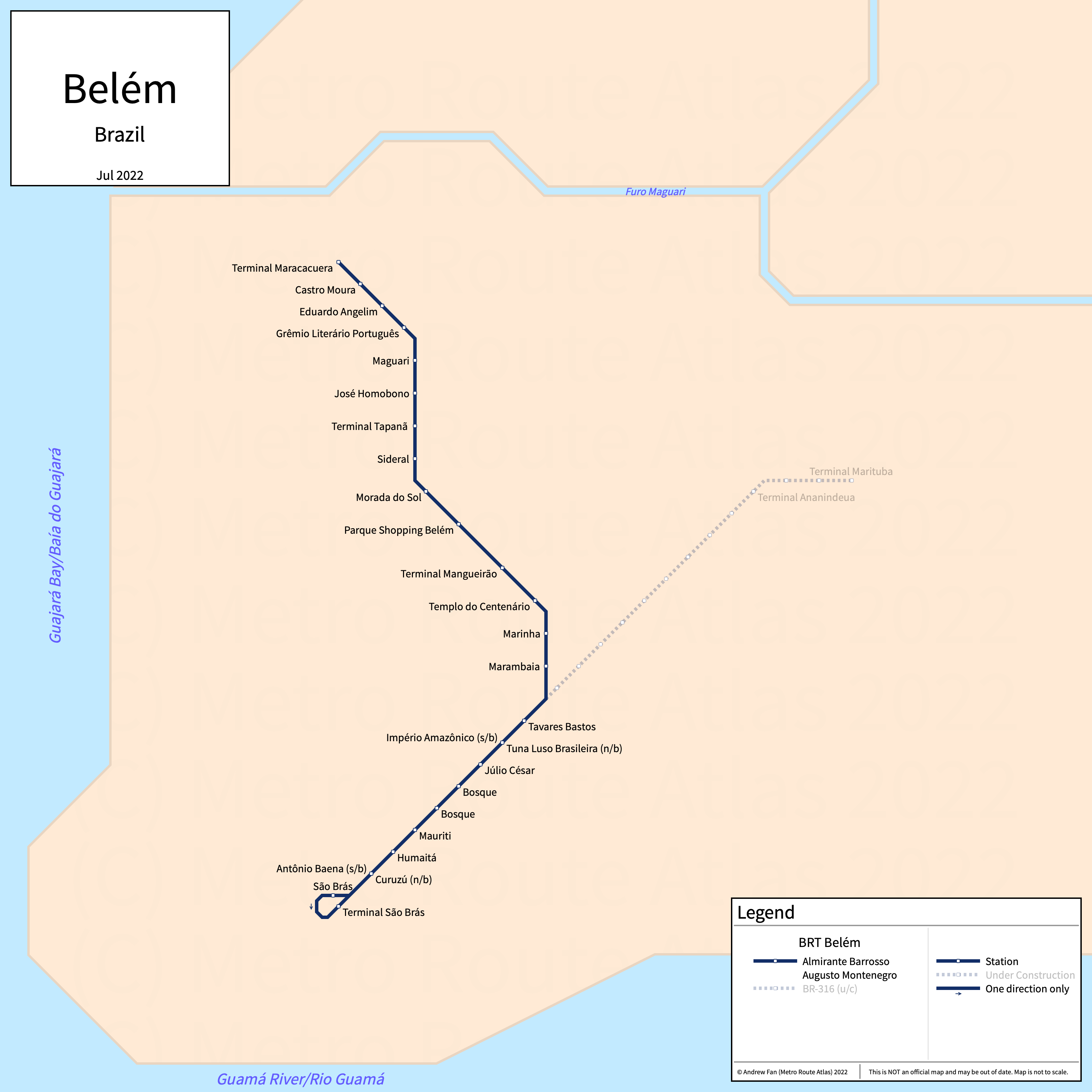 Table of Contents
Overview - Belém
Located on Guajará Bay, Belém is the capital of and the largest city by population in Pará. It has approximately 1,499,000 inhabitants in the city proper as of 2020. The Belém metropolitan area comprised 2,249,405 residents as of the 2020 IBGE census estimate.
Belém's rapid transit network consists of a bus rapid transit line.
BRT Belém
Opened 2014, BRT Belém consists of a bus rapid transit line that serve the city of Belém, Pará and the surrounding suburbs.
BRT Almirante Barroso & BRT Augusto Montenegro
BRT Belém Almirante Barroso and Augusto Montenegro form a bus rapid transit line on a North-South alignment. It runs from Terminal São Brás in the south to Terminal Maracacuera in the north via Terminal Mangueirão, serving 22 stations. São Brás is comprised of two separate stations, one of which is exclusively used for disembarking, and Bosque consists of two station pairs located around 400m apart but branded as a single station.
BRT Belém was opened in January 2014 with only the ROW available, with BRT service on Phase 1 beginning sometime around April 2017. Phase 2 to Tapanã opened in September 2018, and the last extension to the line was Phase 3 to Maracacuera in November 2019.
References & Helpful Links
Official Website for BRT Belém: BRT Belém
Maps
Other Sources
Other Websites
External Citations
Asset Notes
BRT Belém color taken from background color of official website as of July 23, 2022.